Photo of Elizabeth Vargas, host of 20/20, with her newborn son on her return to work.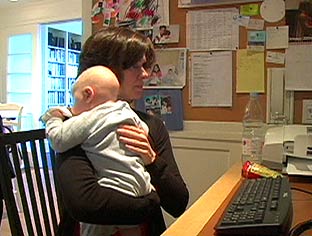 "Maybe they should leave their childbearing uterus at home. Why work?"




This was a comment by a radio show caller mentioned on 20/20 tonight. I cant even believe someone would say something like this aloud. This un-named caller was calling the Los Angeles-based radio talk-show host Tom Leykis.



What an ass.

20/20 also quoted a woman, Aimee Foley, who stated "While I'll probably never own a business, if I did, I would do whatever necessary, law be damned, to be sure that no women worked for me. I would be too concerned with her personal choices affecting my business. I just cannot imagine having important business foiled by a missed bus or a sick minor at home that she would put first."

What an ass again.



If leaving the child bearing uterus at home or making sure the sick kid doesnt interupt business, then maybe we as a country need to simply say that NO parent can work out of the house; leave those child-making p-n-ses at home too!

Mommy Wars are completely counter-productive (among other things). This particular post has NOTHING to do with the SAHM vs WOHM moms. Its about moms; all moms are working moms. Some of us have the ability to be a mom at home caring for her home/family/children while her partner/spouse/etc earns the money needed to pay the bills. Some of us dont have that ability and have to hold a second full time job (the first being a mom, the second our career or job).

Regardless of where you work during the daytime hours, we all, as moms, need certain things. In my opinion (and its my blog so thats what I will go with), the most important thing I need and rarely get is recognition that my "choice" is hard and that I really am doing the best I can do. In the end, dont we all want that?



One of the things discussed on 20/20 was this country's lack of support for working moms. The US is one of four countries in the world that does not provide for paid maternity (or paternity) leave. As the world's superpower, that is an embarassing statistic---even Iran has a better policy than we do in terms of working moms!


Why do I work out of the house? Because I have to, NOT because I want to. Yes, I have a great job and I love what I do more often than not. But in my heart, I would walk away from it all if I could to spend every moment of the day with my daughter. I missed her first step (I was in Seattle on a business trip) and I wasnt here for the last birthday party she was invited to either because, yes, I was on another business trip. Those moments break my heart. I hate doing the morning drop off at day care but picking up in the afternoon is the greatest part of my day.



Working moms dont want pity. We dont want to whine about things we dont have or things we do have to deal with (a THICK and lower glass ceiling, stupid radio show hosts, etc). We dont want to start a big nasty media fight with SAHMs. We just want to have the tools and policies available to do what we need to do to provide for our families. A little flexibilty, understanding, compassion, and respect----thats what I want in life. And hey, isnt that what all moms want?

And so to Tom Leykis-----screw off!